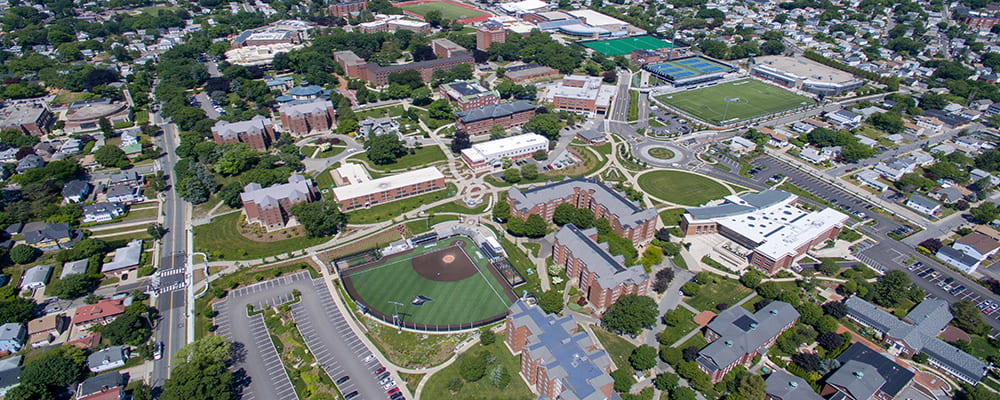 Campus Information
Parking Information
Guests are encouraged to enter campus through the Huxley Avenue gate (accessible via Admiral Street only). The GPS address for this entrance is 212 Huxley Ave. Please note that parking locations are viewable on the interactive map. Parking will be available in the following locations:
Garage at Anderson Stadium
Peterson Garage
Behind St. Dominic Chapel Lot
adjacent to the Ryan Center for Business Studies
Shuttle Information
The shuttle will begin the following continuous route. Please allow 20 minutes between each stop. The entire route takes approximately 1 hour.
Omni Hotel (formerly the Westin) at the valet entrance, curbside.

Guests of the Hilton, Hotel Providence, Courtyard by Marriott, and The Graduate Providence (formerly the Providence Biltmore hotel) will be picked up at the Omni.

Hampton Inn and Suites
Renaissance Providence Hotel
Homewood Suites by Hilton Providence Downtown
Marriott Providence
Providence College Concannon Circle
Campus Facilities
Dunkin' Donuts, Slavin Center

Friday, Oct. 4 – 8 a.m. – 5 p.m.
Saturday, Oct. 5 – 8 a.m. – 6 p.m.
Sunday, Oct. 6 – 8 a.m. – 1 p.m.

Starbucks, Ruane Center for the Humanities

Friday, Oct. 4 8 a.m. – 5 p.m.
Saturday, Oct. 5 8 a.m. – 6 p.m.
Sunday, Oct. 6 8 a.m. – 1 p.m.

Philips Memorial Library

Friday, Oct. 4 – 8:30 – 6 p.m.
Saturday, Oct. 5 – NOON – 6 p.m.
Sunday, Oct. 6 – 12:30 – 8:30 p.m.

Campus Bookstore

Friday, Oct. 4 – 8:30 – 6 p.m.
Saturday, Oct. 5 – NOON – 6 p.m.
Sunday, Oct. 6 – 12:30 – 8:30 p.m.

Alumni Cafeteria

Friday, Oct. 4 – 8:30 – 6 p.m.
Saturday, Oct. 5 – NOON – 6 p.m.
Sunday, Oct. 6 – 12:30 – 8:30 p.m.

Eaton Street Café, Arthur F. & Patricia Ryan Center for Business Studies

Friday, Oct. 4 – 8:30 – 6 p.m.
Saturday, Oct. 5 – NOON – 6 p.m.
Sunday, Oct. 6 – 12:30 – 8:30 p.m

Concannon Fitness Center (ID required for access)

Friday, Oct. 4 – 8:30 – 6 p.m.
Saturday, Oct. 5 – NOON – 6 p.m.
Sunday, Oct. 6 – 12:30 – 8:30 p.m
Helpful Phone Numbers
Office of Safety and Security (Lost and Found Inquiries)
On-Campus Emergencies
Off-Campus Emergencies
Office of College Events

401.865.1091
colevent@providence.edu