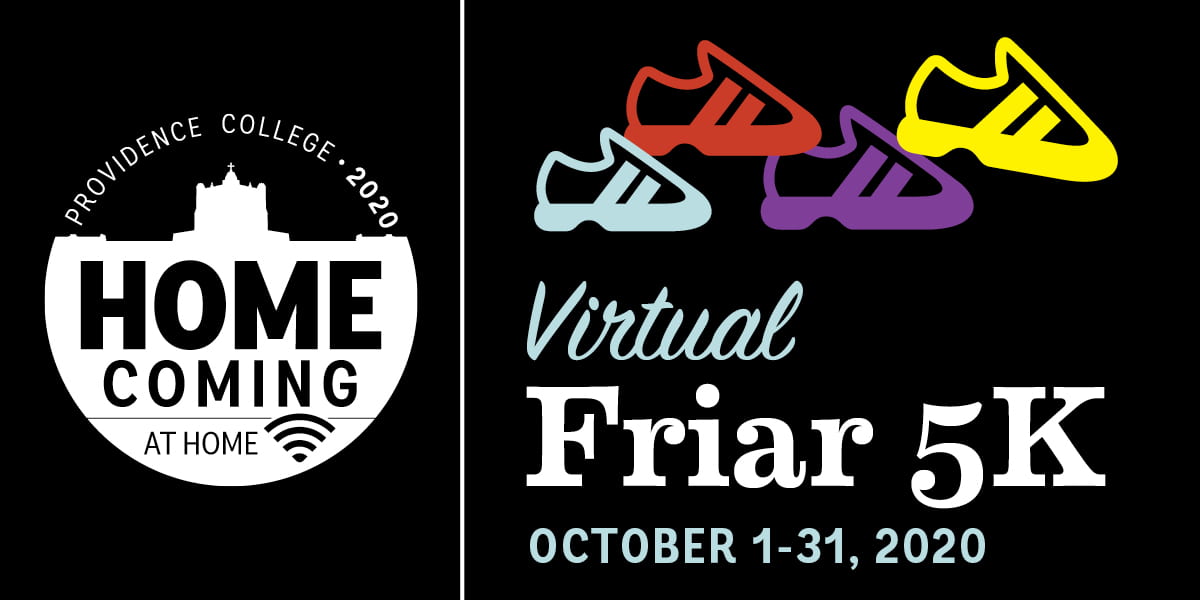 Virtual Friar 5K
Throughout the month of October
Every day is game day in Friartown! Lace up your sneakers, grab a mask, and hit the streets to run-where-you-are for the 11th annual Friar 5K. Sign up to run or walk 3.1 miles during the month of October to support the National Alumni Association Scholarship Fund — and of course, get your traditional 2020 Friar 5K T-shirt.
Thank you to our generous sponsors United Healthcare, UNFI, S/L/A/M Collaborative, Coast to Coast, Harrop Family Foundation, Frank DeClemente's, New England MCA, and DiSanto Priest Charitable Foundation.
register now
Please allow 2-3 weeks for processing and shipment.
This year's race is part of Homecoming at Home – a month-long celebration of Friar pride that you can enjoy from anywhere in the world.
5K Event Kick-Off
Noon | Saturday, Oct. 3 on Facebook
Kick off the Friar 5K with a blessing from PC's Dominican community and take a walk (or run) down memory lane with highlights of 5K races from the past.
Friars Run the World
Can the Friar family log enough miles throughout the month of October to run around the state of Rhode Island (37 miles)? What about the U.S. (2,800 miles)? What about the world (24,901 miles)? Submit your race time, miles you ran, and your photos and we'll see just how far the PC community can go. We'll share results throughout the month and the grand total at the end of October.
submit your miles
Get Social with the Friar 5K
Join the Friar 5K Facebook event and you can stay connected to the 5K all month long. You'll also get training tips from PC alumni, learn more about the National Alumni Association Scholarship Fund, and hear more about exciting ways you can celebrate our month-long race!
We also encourage you to post your photos on social media with the #Friar5K hashtag.
join the facebook event
Are you 5K ready?
Listen to the Friar 5K Spotify Playlist.
See photos from previous years